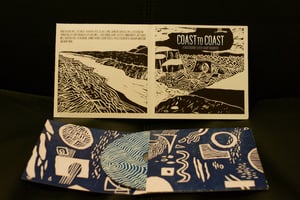 £

1.00 - On Sale
Coast to Coast is a Northern scene video filmed and edited by Adam Todhunter.
The 2 year project was filmed all over the north of England, including the best skateboarding from both the east and west coast. There is plenty of footage from the rest of the UK, with 3 montages filled with shredders from all over!
Featuring;
Mani Haddon, Will Creswick, Dan Main, Ross Zajac, The Cougar,
Dan Hallam, Lloyd Hodgson, Thomas Miller, Rory Muirhead, Dylan Sewell, Josh Cobbin, Harry Veitch, Connor North, Joey Hurst, Will Sheerin, Phil Steavenson, Johnny Haynes, Adam Thirtle, Myles Rushforth, Graham Anderson, and many more...
see the trailer here
https://www.youtube.com/watch?v=t580WJWJlhM
Approximate running time 52 minutes
FREE SHIPPING